Learn Magic tricks w/ Martino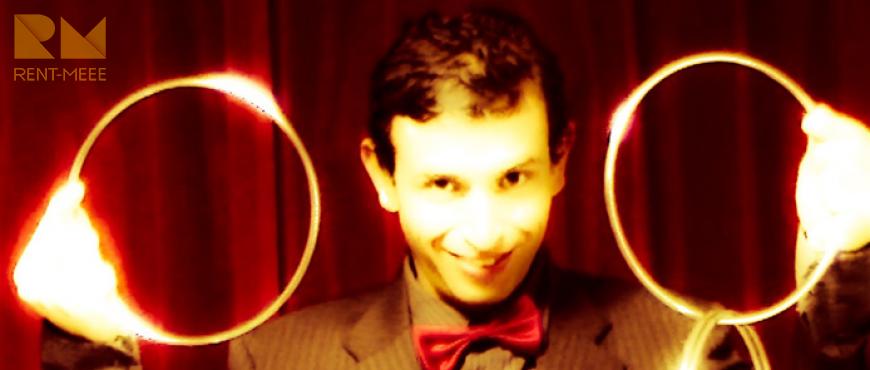 Event Date:
Wednesday, April 18, 2018

7:00 PM

to

8:00 PM
I was born in Firenze, Italy. I live in Japan from 2006 and make my living as magician. I started magic from when I was a kid and my mother gave me a magic book as my 9th birthday present..I work in restaurants, avenues, department stores, shopping malls, schools performing during parties, and events, I can perform both close up shows for a small group of persons and also stage shows in front of a large number of people and my speciality is the street magic show.
Why magic:
studying magic tricks can make you the star for the party, can help you to impress the girl/boy you like or just have fun with your friends
About the lesson:
my lesson can be booked as one lesson only or as a course of 6 lessons with a final test where you will study how to do your own magic show combining together several tricks.
Why this lesson:
if you surf on internet or look in a bookstore you can find many magic books but why taking a lesson is so far better, because I will follow you step by step correcting eventual mistake, give you personal advices and tips to how to improve the performance all things you can't find in a video or book.
In the lesson I will teach you
A wonderful card trick with a story that doesn't require any sleight of hand but is secure hit on spectators and can be performed anywhere you just need a regular deck of cards.
A magical experiment with a pencil that will leave your friends astonished
A mentalism trick with special cards called psi cards that I will teach you step by step how to make
Event Details
◆Time
7:00pm - 8:30pm
◆Venue
ENT Co., Ltd
〒162-0061
Ichigaya KK tower 4F, 45 Ichigaya-yanagichō Shinjuku-ku, Tokyo, Japan
◆ Participation Fee
Private lesson regular price 9,000 yen(90min)
⇒ 3,000 yen (limited time, limited to the official website application) 
◆Maximum number of participants
4 people
◆ Reservation
ENT Co., Ltd - Rent-Meee Division
03-6265-3723
https://www.rent-meee.com/events
info@rent-meee.com
Please use the form on the right to fill out your name, phone number, number of participants, and which level you would like. You can also contact us at (e-mail address of
info@rent-meee.com
). 
(Reservation by e-mail or official website qualifies for discounts.)
*Private lessons available. For information see their
Rental page
.
Level Information
Select from below to indicate what you are interested in learning and your magic level so the contents of the lesson can be adjusted.  
Beginner level
lesson 1
 . basics principles in magic
. self working magic with everyday object: rubber band trick
. self working magic with everyday object: pencil trick
. self working magic with everyday object: straw trick
lesson 2
. basic moves with cards ( grip, basic shuffles, break)
. 2 self working card tricks
lesson 3
. where and how to get the materials
. self working and self crafted magic: esp card
. self working and self crafted magic: saw the lady in half
intermediate level
lesson 1
. basic sleights for card magic
( force, top control,false shuffle, double lift, magician palm)
. 2 simple card tricks using the basic sleights
lesson 2
. a simple vanish
. sponge balls basics
. Martino sponge ball routine ( with variations, and how to craft your own sponge balls)
lesson 3
. silk magic
. sugar magic
. rope magic
advanced level
lesson 1
. the big difference: timing and pausing in magic
. color change card trick
. about the ambitious card
lesson 2
. how to deal with problematic spectators
. invest well your money: choose the right tricks, how to
. classic is best: Martino linking rings
lesson 3
. how to make a successful magic show
. basic moves for Martino cups and balls
. 5 stars classic:  basic Martino cups and balls routine
special lessons
magic tricks to pick up a girl
. basics, team work, flourish
bar betchas and puzzles
. to be the star in the pub with your friends
. 5 simple bar bets/puzzles to entertain your friends
street busking
. basics
. build an audience
. how to make your show