Rent Meet! Free event in Shibuya. Meet the community!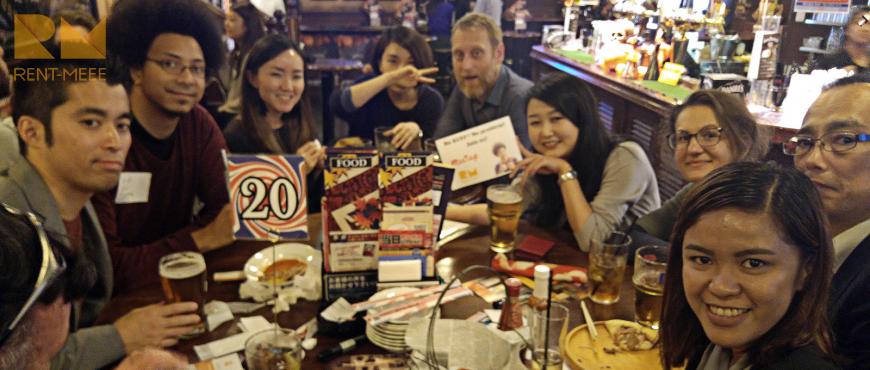 Event Date:
Monday, April 23, 2018

6:45 PM

to

8:45 PM
We are continuing our series of casual parties for Rent-Meee called RENT-MEET!
Rent Meee is a service to help Foreigners get English speaking gigs and Japanese to learn English. We hope to help people learn English through FUN activities. At our meet we will have English speakers who all have their own unique skills.
Our English speakers will wear name tags that show their skill on it that will make it easy to find and talk to people about subjects. If a student is interested in a teacher there will be an easy way for them to find their Rental on the website.
The location will be HUB Shibuya.  The event is free just pay for your own drinks. We will be in the back in the large area and have name tags that say Rent Meee!
We will gather our Rent Mes (English speakers with Skills) and we will all talk and have a good Friday night and Renters (People who want to learn or use a skill). 
We will also be inviting Japanese people interested in learning English. Those on our site will have a chance to promote their Rental directly to people at the event.
Info about the venue
----------------------------------------- 
(Monthly 3rd Fri) 6:45PM-8:45PM
HUB Shibuya
FIESTA SHIBUYA BLDG.B1, 3-10, UDAGAWA-CHO, SHIBUYA-KU, TOKYO, JAPAN
https://goo.gl/maps/acDFqg14N9r 
◇Free Event
Just pay for your own drinks 
◇Meeting place
1. 6:45PM We will wait in front of Shibuya Tsutaya across the streat from Shibuya station. We will be there for a few minutes before going to HUB. You can find us by looking for this afro guy, Carl.

2. You can Come to HUB Shibuya directly if you miss us at Tsutaya (You can join anytime!)
Registration
Register the way you like!

1. Register on the right side of this page, if you are logged in it will register you as either a Rent Me or Renter!
2. Register on Meetup.com!
3. Register on Facebook!