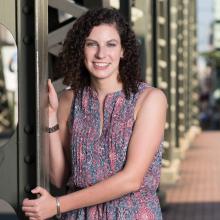 United States of America
Bio
Hello! My name is Kasia and I`m a very GENKI person. Two of my favorite things are fitness, especially running, and cultural exchange. I was on the cross- country team in high school and in college and would run 5K races. Coming to Japan, I began running marathons. I ran the 2016 Yokohama Marathon and the 2017 Nagoya Women's Marathon. Besides running, I also like to do HIIT workouts, swimming, biking, zumba, hiking, and some yoga. 
 
Skills
Sports
walking
Swimming
Jogging
Zumba
Fitness
Personal Training
Yoga
Foreign culture
Japan
North America
Asia
Language
English Language Level:
Native
Japanese Language Level:
Intermediate
Badges

Premium Member
The highest level account. This user is eligible for official Rent Meee events.

English Teaching Certification

Rental tested
This user has been tested by Rent-Meee.com

ID checked
We have verified this person's ID
Reviews
If you don't see a calendar or would like to request another time/rental activity you can message this Rent Me.