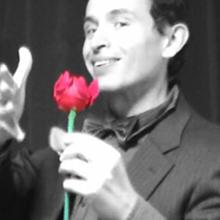 Italian Republic
Bio
I was born in Firenze, Italy. I live in Japan from 2006 and make my living as magician.
I started magic from when I was a kid and my mother gave me a magic book as my 9th birthday present.
I work in streets, parks, avenues, restaurants, department stores, shopping malls, schools performing during parties, and events, I can perform both close up shows for a small group of persons and also stage shows in front of a large number of people.
 
Language
English Language Level:
Advanced
Japanese Language Level:
Advanced
Badges

Premium Member
The highest level account. This user is eligible for official Rent Meee events.

Address confirmed
We have confirmed the address of this user.

ID checked
We have verified this person's ID
Reviews
If you don't see a calendar or would like to request another time/rental activity you can message this Rent Me.