How to Use
How it works page is
here
!
Table of Contents
---
■ RentMeee
Account and Rental Settings
Please click your user name, and click "Edit". 
Edit Account

Account Info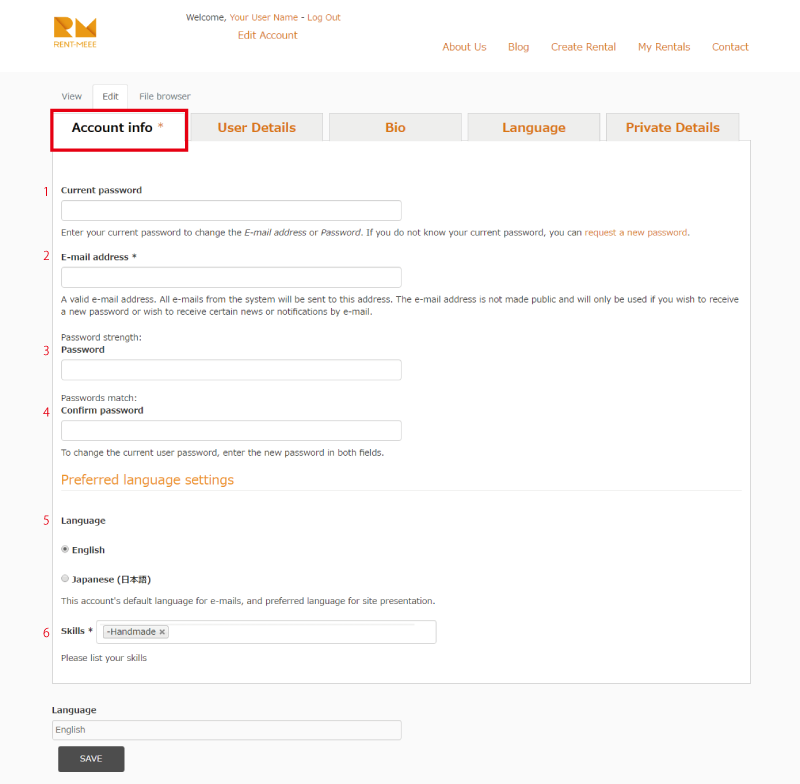 1. Current password
Enter your current password to change the E-mail address or Password. If you do not know your current password, you can request a new password.  
2. E-mail address
Enter a valid e-mail address here. All e-mails from the system will be sent to this address. The e-mail address is not made public and will only be used if you wish to receive a new password or wish to receive site updates news or notifications by e-mail.  
3. Password
If you want to change password, please enter it here and Confirm your password.
We recommend using a strong password with letters, numbers and symbols.  
4. Confirm password
Re-enter password here.  
5. Language
This is where you will set your own language default for navigating the site, emails and notifications.  
6. My Skills
This is mostly for Rent Meees. Here you can list all the skills you have or have.  
7. Skills I'm interested in
This is mostly for Renters. Here you can list skills you are interested in learning.  
User Details
1. Profile picture
Click "choose picture" and choose your best picture, and click "UPLOAD".
・Change image
If you want to change your image, click "REMOVE" first, and then add new image.
・Crop and resize
If the image does not look right, click "
MANAGE IMAGE CROPS
". You will see the borders where you can drag and resize. Then you can click "Apply crop". You may not see the change right away, but once you click "SAVE" at the bottom of the screen your changes will take into effect.  
2. Nearby Station
Type in the nearest most convenient Train station here. It will be useful for figuring out the ideal places to conduct rentals once you see the nearby station of both Renter and Rent Meee. This is directly connected to your user account.  
3. Name your central location
Write your central location, this is what will display as your location in all areas of the site. Will not affect SEARCH, search is handled by the field above. ex. "Shinjuku Station" or "Shinjuku-ku" or "Narita Airport". If nothing is entered the first 2 words of the field above will be shown.  
Bio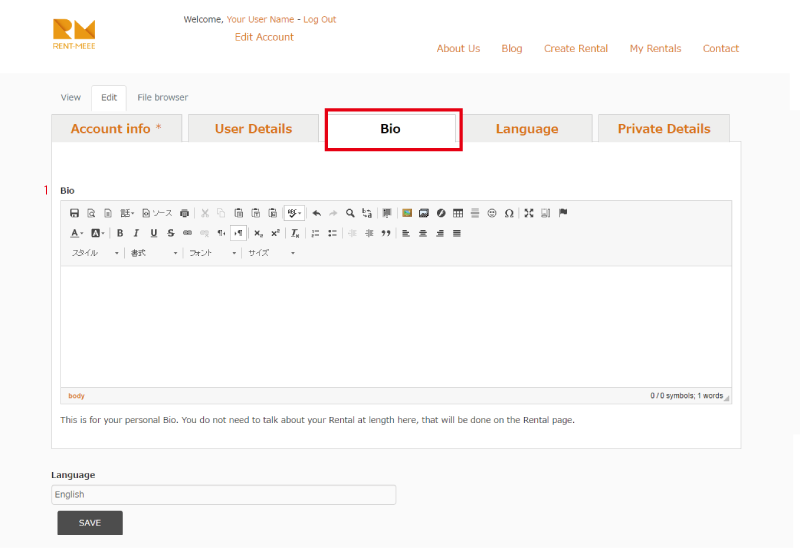 1. Bio
You can create original design, put picture, change text size color etc.
This is for your personal Bio. For Rent Meees, you do not need to talk about your Rental at length here, that will be done on the Rental page. For Renters, this is your chance to give a nice introduction.
Language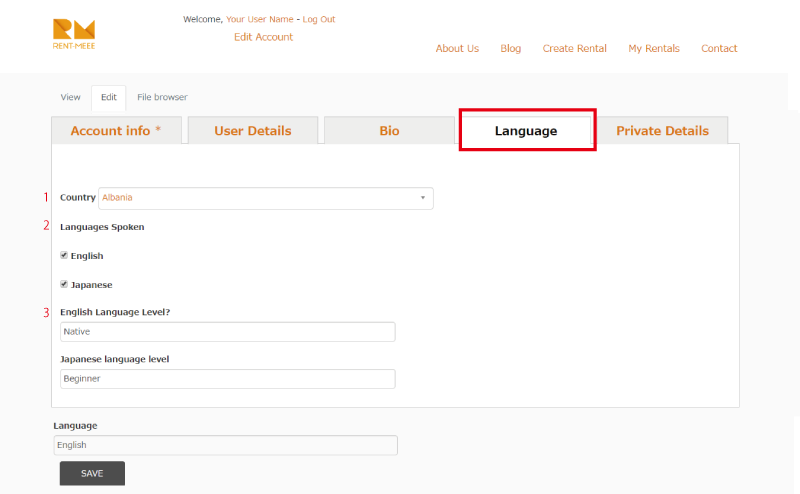 1. Original Country
Please choose the country you are from. Not where you currently live.  
2. Languages Spoken
Please check all the languages you speak.  
3. Language Level
Please choose your language level for each.  
Private Details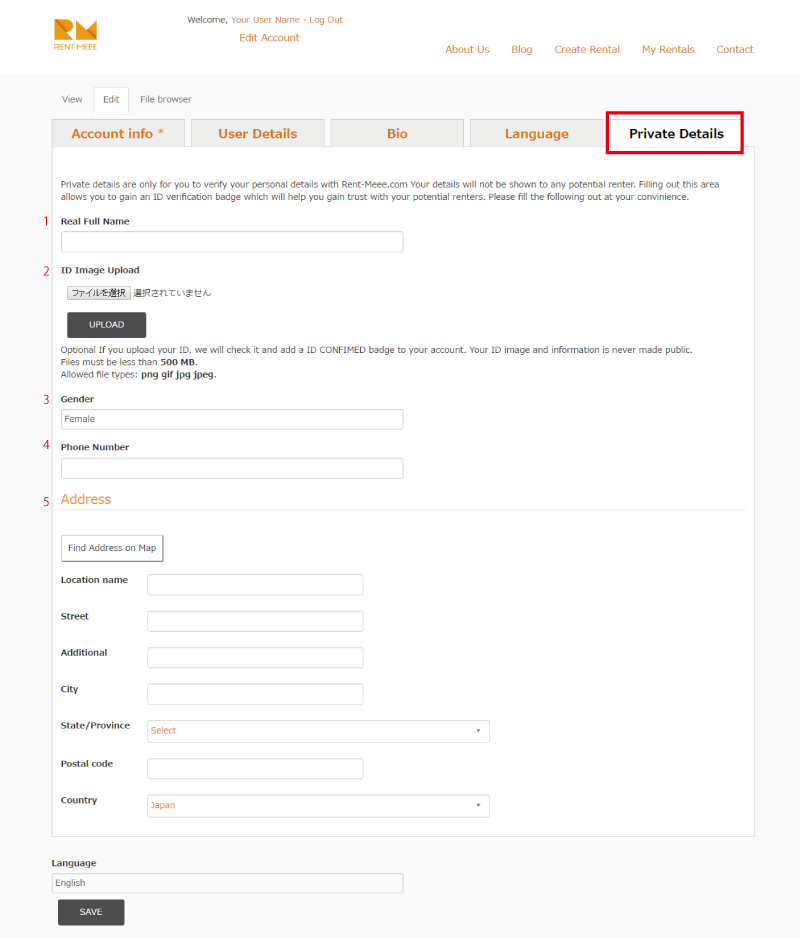 Private details are only for you to verify your personal details with Rent-Meee.com Your details will not be shown to any other user. Filling out this area allows you to gain an ID verification badge which will help you gain trust with potential renters. It also helps us get in contact with you if there are any issues or in case of emergency.
1. Real Full Name
Your real Name as seen on an ID, this will not be made public on the site.  
2. ID
Optional If you upload your ID, we will check it and add a ID CONFIRMED badge to your account. Your ID image and information is never made public.  
3. Gender
Please choose your gender  
4. Phone Number
Please put your phone number  
5. Address
Please put your address in Japan.
---
Create Rental